Everything you Need to Know About the Relentless Rope Trainer™
Delivering relentless training with unique gym equipment is a Torque Fitness specialty.
Similar to the TANK™ push sled line, the Relentless Rope is designed with Torque's Mag-Force Resistance™ a system derived from the Eddy Current Braking system which emphasizes opposing force. The Relentless Rope Trainer harnesses this idea with bi-directional pulling and increasing resistance with pull rate rather than easing up based on speed. Users are challenged to continually output energy & effort to progress through Relentless Rope training.
Designed for any passionate fitness enthusiast. From young athletes to bodybuilders and everyday gym goers, the Relentless Rope Trainer was crafted to release relentlessness. Because of the multiple resistance levels, all types of training and recovery can be implemented with the Relentless Rope Trainer. Developed as an attachment, the rope is less intimidating than traditional commercial rope climbers while still delivering full-body training.
Here are some of the most asked questions about the Relentless Rope Trainer.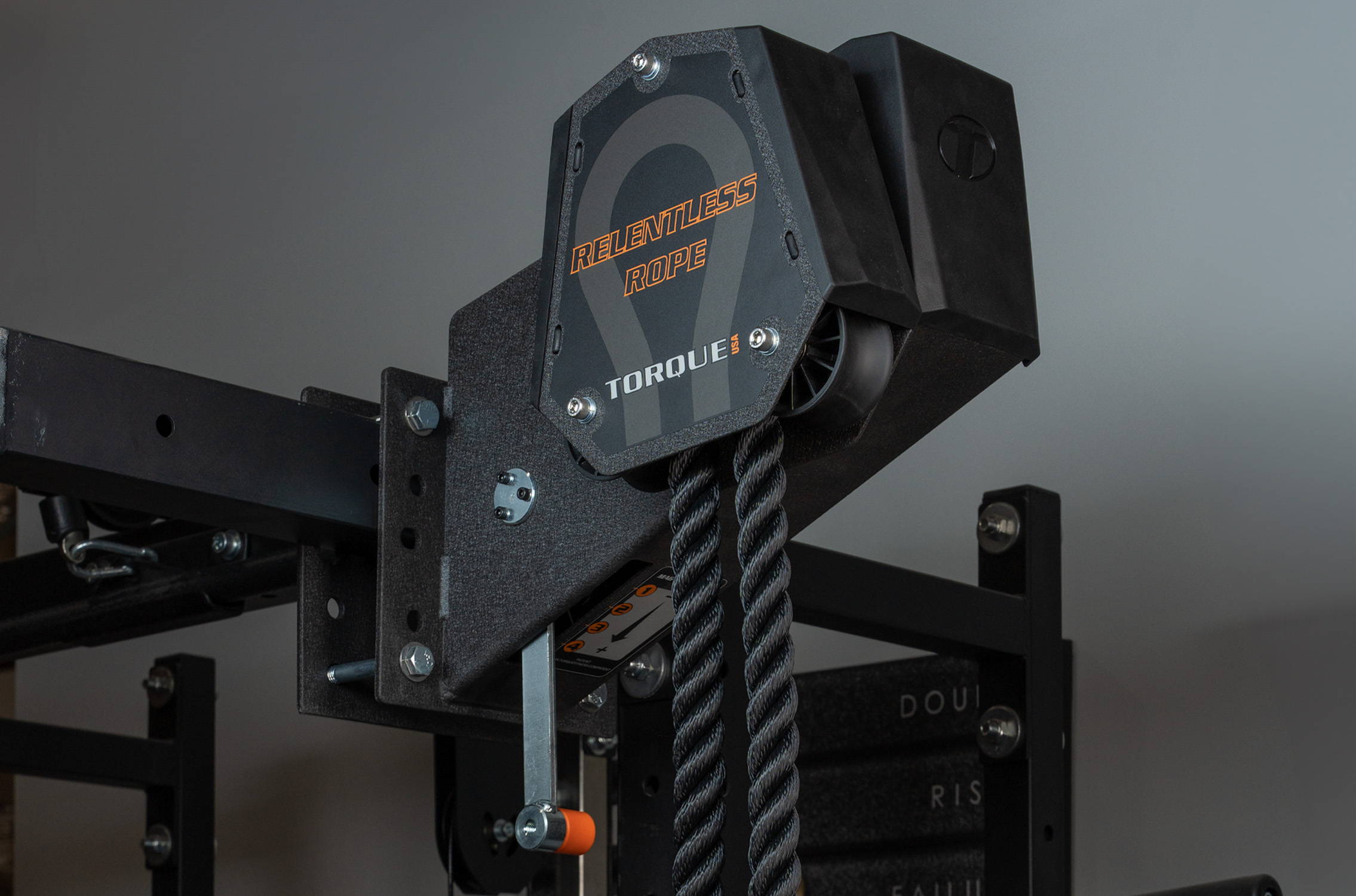 What can the XERT be mounted to?
The XERT can be bolted to most Torque Fitness products as well as other manufacturer's equipment. Specifically, Torque equipment: X-CREATE (top of 8U or 2S8U upright with XCREATE-AE, to the side of any 7' X-CREATE upright and larger, or to any bridge, any X-RACK or X-SIEGE, any X-GYM Wall racks (except 1.0), X-GYM HSR. For other, non-Torque equipment: It can be clamped to any tube as large as 6" x 6". Meaning it would clamp to a 3 x 3" tube, 3 x 4" tube all the way up to 6" x 6".
How much resistance?
Like the TANK, the Relentless Rope Trainer is optimized with Torque's Mag-Force Resistance™. A more intense resistance is delivered the harder the rope is pulled. New to training? Level 1 Resistance is a perfect level for beginners and those looking to heighten mobility. Some of the world's strongest athletes endure a relentless battle with Level 4. The Relentless Rope Trainer delivers a resistance for any fitness enthusiast.
Is this for Home Gym or Commercial spaces?
Both! Commercial quality at home and training in every type of facility. The Relentless Rope Trainer is available for any home/garage gym space as well as in-stock for commercial spaces.
Can you elaborate on the Relentless Rope cost?
Our design & engineering teams extensively examined the market while creating the Relentless Rope, with a goal to bring the best featured product available at a cost-effective price. We believe our team accomplished this with the only adjustable resistance trainer using pivoting rollers on the market priced 30-45% lower than our competitors at $1099 with free shipping.
What is the ideal mounting height?
Any height will be challenging, training different body parts. To mimic traditional rope climbing, we recommend mounting the Relentless Rope trainer at approximately 6ft. or higher. The Relentless Rope can be mounted in a space with low ceilings because pulling can be done with an athlete sitting or kneeling.
Can it be connected with pins to be removed/movable?
At this time, when the Relentless Rope Trainer is bolted, it is not adjustable.